Imagine being able to visit your favourite museum, and interact with artefacts, from the comfort of your home (or library or school). The government has announced a £19 million (across 5 years) programme to revolutionise the way visitors interact with cultural collections.
They say that online interactive tours or live streams will open up the national collection to a diverse audience, and would also offer remote access options to those with mobility issues or in rural areas.
As well as the promise of augmented and virtual reality, sound and interactive exhibits, the project seems to focus mainly on a centralised collections database.
---
Google has announced changes to its search function that are 'perhaps one of the biggest since the beginning'. Although it does seem to make announcements like this all the time.
This significant overhaul of its Search tools will, they say, make results more relevant by better understanding the questions we type into Google search. It will work by using machine-learning to understand important words that give context to a question, like 'to' or 'for' (words that it currently ignores completely).
---
Google has also announced the launch of Shopping ads on YouTube, which lets brands advertise their products and services right in the YouTube home feed and search results. For example, if a user searches for "National Theatre review," or even just "theatre, London" a shopping ad may offer suggested NT plays at the top of the page with advertising links to buy tickets for the shows.
The ads may also appear as a carousel between the videos on the homepage so there will be no escaping the things that Google think you should be interested in whilst you're randomly flicking between clips.
---
Even more news from Google as they announce experiments to flag slow loading websites. They say it is part of a long term plan to identify high-quality experiences that may include tests beyond just speed.
If loading speeds are your things then check out the resources on their web.dev/fast learning platform. But do remember that, although speed is important, quality content is probably more vital to your audiences (and to Google rankings) than shaving micro-seconds off your page speeds.
---
Yes, it's another Google titbit… Google-owned YouTube has changed its terms and conditions (you know that thing you clicked automatically without really reading it?)
It now states: "YouTube may terminate your access, or your Google account's access to all or part of the Service if YouTube believes, in its sole discretion, that provision of the Service to you is no longer commercially viable."
People are understandably up in arms. Could it mean that YouTube will be culling any account that it feels has no prospect of making them any money?
---
Shopify has announced an email addition to their platform. Currently available to 'select merchants', the service will begin to roll-out to everyone else early next year. 
It's designed to allow organisations to pull their 'brand assets' into emails along with product content and listings. The software will then provide tracking to show who clicked and who bought, plus all the usual email segmentation and data analysis stuff.
This is part of a wider initiative by Shopify, using their marketing app extension. They've opened up their API to third party marketing apps, and they 'partnered' with Facebook, Google, Microsoft and Snapchat to provide integrated advertising across the various platforms.
---
If you're not yet aware of the meme-sharing platform you soon will be. The Chinese owned platform is, we think, a bit like Vine (the six-second-clip app that everyone copied and Twitter bought and shut down) but with Snapchat filters.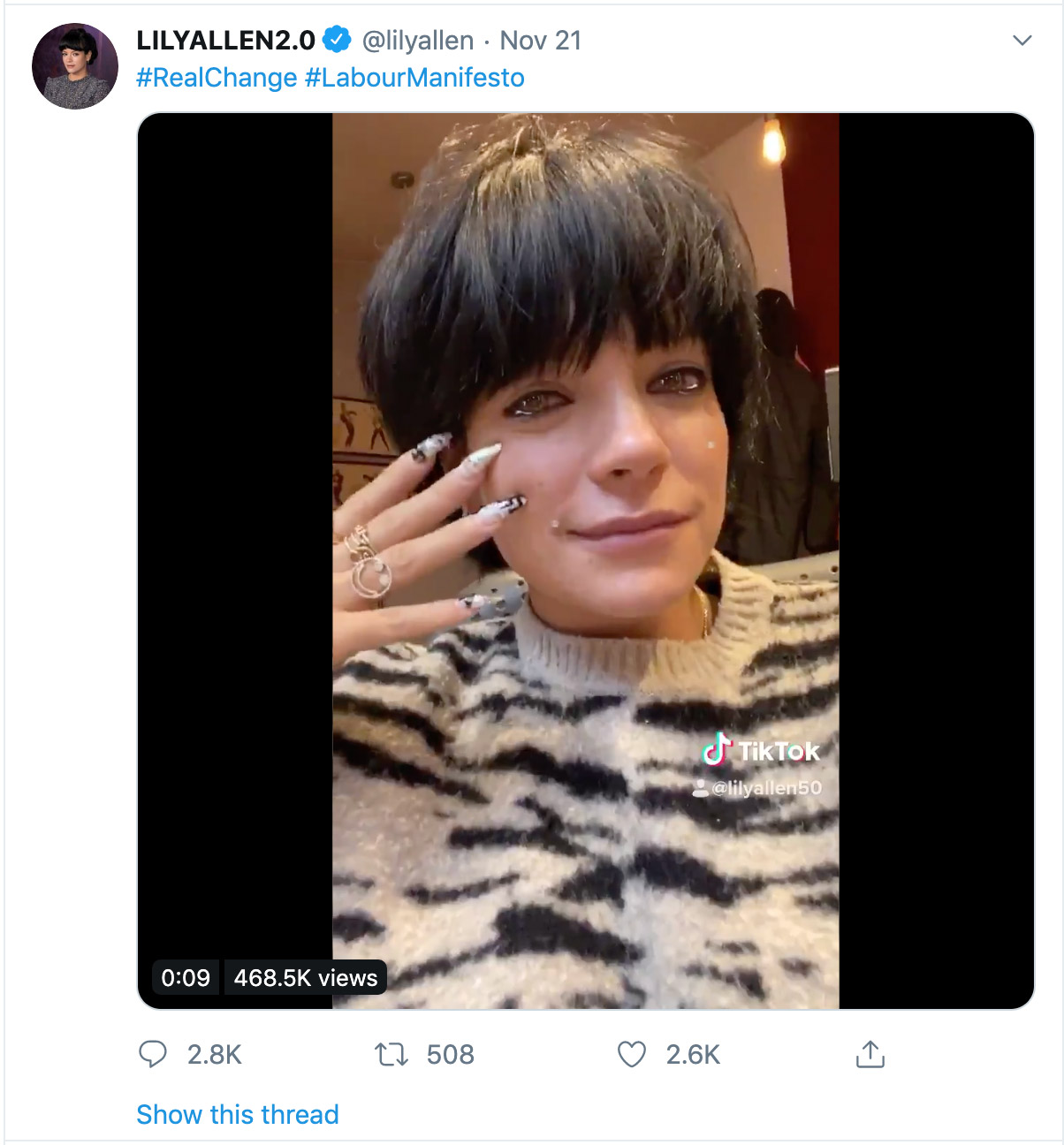 It hit the news last week, when Lily Allen posted a video of herself getting teary about the Labour Party manifesto. But they weren't real tears, they were a TikTok filter.
Launched in 2016, the platform is hugely popular with young people all over the world. They've just passed 1.5 billion downloads and have grand plans to start their own music streaming service.
That popularity has marked it as a threat to US lawmakers who have issued warnings about the lack of data privacy for users, and close links to the Chinese state
---
The world of cookies and data privacy is being tightened all the time. One of the the areas we've had to concentrate on recently is the use of third-party cookies by the ticketing platform Spektrix. Third party cookies are ones used by a site that's different to the one you are directly connected to (in this case a venue or festival).
If certain settings were enabled in Safari, users were prevented from moving through the ticket booking path (within a venue or festival's site) because Spektrix serves and uses cookies to manage certain functions but those cookies were considered 'third-party'. Users (and our clients) were understandably frustrated by not being able to book tickets.
Spektrix have put a solution in place that involves setting up a sub-domain (of our clients' sites) to handle the ticketing path. We've been working with our clients to successfully roll-out this solution. Do let us know if you'd like us to help with yours.
Third party cookies are going to be a big issue in months to come, as more browsers block them. There's a great online tool to check if your device has third party cookies enabled.
---
In its ongoing attempt to repair its reputation for data handling, Facebook has rolled out some big changes to how you can use its API. Announced in April, those changes have now kicked in. If you have a Facebook feed (or utilise any of their API's functions) you'll have noticed that your access has been revoked. We've been working with out clients to set up their own developer accounts, linked to their own Facebook. Let us know if you need a hand with that.
As well as that change, Facebook had 'depreciated' (got rid of) the ability for developers to get data from a whole list of data access points that used to be open.
---
10. Cog at AMA Digital Marketing Day
I'll be repping for us at Arts Marketing Association's Digital Marketing Day – Beyond Digital. They promise a full day of learning and inspiration with plenty of opportunities to meet other delegates so do say hello if you're there.
Interestingly, the event will be hosted simultaneously in Edinburgh (Dynamic Earth) and London (British Library) with a live links between them. And, for the first time, there's an option to be an online delegate via a Digital Ticket.
---
Interested in receiving these updates by email?
Pulling together these tech-titbits is a new idea for us. We're piloting it on our site but wonder if it's something people would be interested in receiving by email. Let us know whether that would be useful.