I saw an article recently, on the Design Week website, about the search for the designer of the iconic Neighbourhood Watch logo, the one in a yellow roundel that is still in use today (below is a corrugated plastic example from Surrey). Apparently, the agency Mellor&Smith are working with the organisation and nobody knows who drew the marque or who owns the copyright.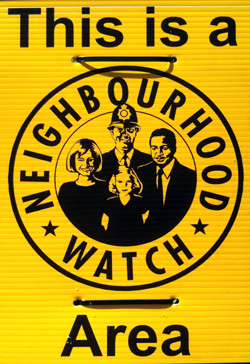 That article tugged at my memory. It shook loose the realisation of how much that design (or more accurately its predecessor, featured above) has influenced me. It is probably one of the reasons why I became a graphic designer. It certainly shaped the way I think about communication.
When I was a child, Britain was awash with government information campaigns. They were often terrifying, always clumsy, and usually the subject of parody. One I remember very well warned of terrifying thieves, hiding in the shadows, with the tagline: "Watch Out! There's a Thief about".
Launched in 1968, the slogan became so ubiquitous that it became a fixture of popular culture: TV episodes (such as Doctor in the House) were named after it, and there was a long running parody campaign from Unigate Dairies 'watch out there's a Humphrey about' that was so high-profile it eclipsed the original inspiration. They even had Muhammed Ali doing TV ads for them.
The Thief About campaign had its own TV presence with different ads including this excellent example, telling you to lock your Ford Capri's door to stop opportunistic thieves nicking your motor, while you were showing off to your mates at the match (as all real men did in the 1970s).
But the core of the campaign was a series of posters, featuring a sinister silhouette of a thief, running off with your stuff. My favourite featured the thief running off with the letter 'O', with the underlying message that you need to watch out because there's a thief AB'UT. That kept me amused whenever I saw it. Sadly I can't find an image of that one to share with you (if you have a copy, do send me a photo).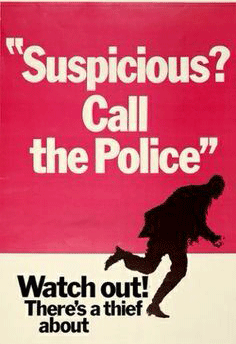 What struck me, even as a child, was how terrifying this and other campaigns were. They were Big Brother's Ministry of Information, whipping up fear and keeping us in our place.
Yes, they made us a little safer but the (I'm sure) unintended consequence was the spread of doom and panic: every stranger was a kidnapper (we didn't use the word paedophile), every firework would explode in your face, every riverbed would suck you in and drown you, and around every corner was a shadowy thief, intent on grabbing your stuff.
Ironically, one of the most successful safety campaigns of the period was fronted by our now most notorious paedophile, but that's a different story.
Psychologists will tell you that scaring people can change a behavior but sustained, long-term change is more easily achieved through positive reinforcement. Since the Blair government we've all become used to politics of persuasion, of behavioral economics and of nudge theory. But back in the 70s and early 80s we were still a country of rule by discipline and corporal punishment.
It was in the mid 1980s that I first noticed the shift from 'be afraid' to 'let's work together to make this a safer place' type messages. Perhaps it had always been there, perhaps this was as much about an awakening in me.
There were news reports of a citizen vigilante group called the Guardian Angels, patrolling New York's subways under the slogan 'dare to care'. I can remember a lot of excitement about representatives setting up a chapter on the London Underground, but that spark never really took hold; I suspect they were crushed under an avalanche of derision because they wore berets. Apparently there are still a handful of volunteers; I've never seen one, but maybe they don't come out in the daylight.
Then I noticed that someone was pushing an initiative called Neighbourhood Watch. Rather than putting up posters telling you to fear your neighbour, they seemed to be suggesting that you talk to them and watch out for them.
It was literally 1984. We were under the cosh of the Thatcher government. I hated the idea of curtain-twitching neighbours spying on each other. I was in my rebellious teens with an anarchist sensibility; the mantra 'all property is theft'  appealed to this 14 year-old who owned no property. But something struck a chord, despite my anger at the world. I had a grudging respect for the ideals of Neighbourhood Watch.
I lived a long way from central London's tube. My commute to school was by bus, within sight of the newly opened M25. Next to my bus stop was a sign, and the people depicted on that sign fascinated me.
I would wait, imagining their stories… a girl is brought to her new family by a social worker; the fostering couple are a policeman and his transvestite partner. The social worker's eyes meet those of the policeman and they know immediately that they are destined to run off together. But what will become of the girl? Will her now single-parent launch a men's fashion range based on her sack-cloth dress?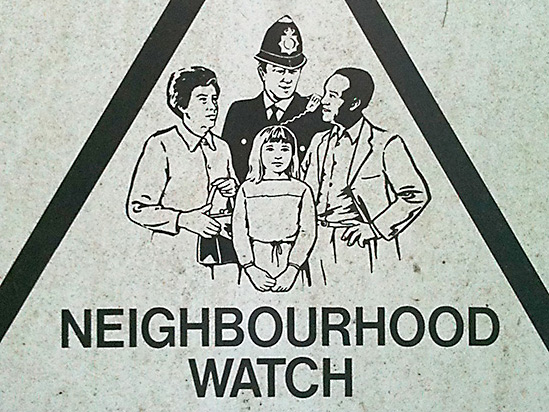 Someone drew that sign and had to think carefully about who to draw and how to draw them. Those choices seemed charmingly incongruous to me, even then. Imagine the brief to the illustrator; imagine the politically correct arguments and the iterations of ideas. The policeman needs to be authoritative but not domineering, There must a white woman and a black man, they must be very different ages so we aren't implying that they're a couple. The man mustn't be threatening, I'm thinking Afro-Caribben rather than Asian, smartly dressed but not so smart that he looks like a businessman, maybe with his hand on his hip, yes, that'd feel natural. Let's have him making eye-contact with the policeman so we imply a mutual respect… and, and, and…
This was a time before computers were used in design. That drawing would have been put together from different sketches and tracings, overlayed on film, scratched out, redrawn and reworked, over and over again. And you can see that in the awkwardness of the composition and the imperfections in the line. I love that about it.
I'm not sure who funded that scheme, but the signs went up everywhere. Thirty years on, there are still dozens of them dotted around where I now live (in the wilds of rural Kent).
Even in my society-hating teens, a bit of me admired the campaign. It gave my neighbours an excuse to meet and talk, it gave them a common enemy (thinking about it now, that common enemy was probably the troubled teen at the bus stop), and it united people in a purpose rather than making them cower in fear.
There was a wonderfully gentle sit-com with Richard Bryers and Penelope Wilton that perfectly captured the spirit of a dotty suburban neighbourhood watch. I encourage you to watch it.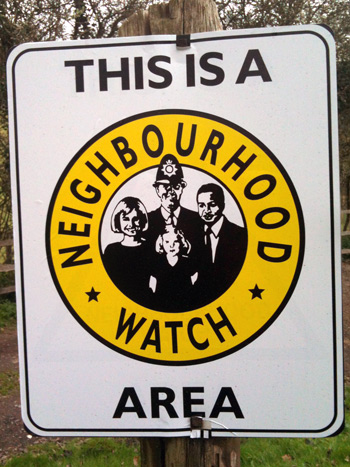 In the early nineties, the sign was replaced by something supposedly more sophisticated. The black man's ethnicity is more ambiguous, the frail old person is replaced by a confident modern woman, a family unit is suggested rather than the collection of random people. They beam at us like born-again neighbours, but the new sign lacks charm. It looks like it's a studio-shot photograph that's been retouched rather than being painstakingly created. Don't get me wrong, I admire it. It's been hugely successful but somehow it lacks the integrity of the original.
I would be sad for the loss of the original sign if it weren't for the fact that we haven't lost it. It's still everywhere: you can still buy it here (they're £70 each!).
The thing I never worked out was who was behind it all. Wikipedia tells me that it was a grass-roots movement started in the US. It seems to have been picked up by the Home Office and COI (Central Office of Information) at some point. It was directly associated to the police at a local level, but was that official? Did the local force pay for it all or was it a local council thing?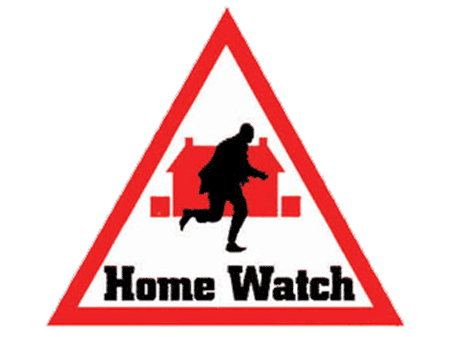 Apparently, Neighbourhood Watch was originally called Home Watch and that name is still used in many areas of the UK. A simple Google of Home Watch and what do you find? He must now be in his 70s, but the shadowy villain from the 'Thief About' campaign has been consistently spreading fear across swathes of the UK ever since he appeared in those TV ads (you can tell it's him because he's still wearing the same pointy shoes). How sad that the rest of the country missed out on our benign, dysfunctional families.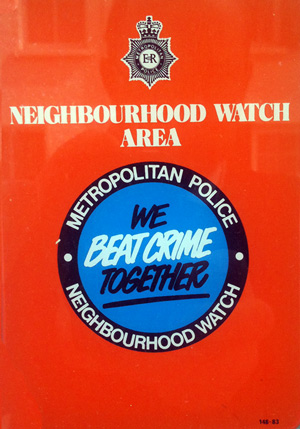 It's also worth noting that, as is often the case, London went its own way with Neighbourhood Watch. The Metropolitan Police seem to have consistently funded their own versions of the scheme. Their approach used to be about authority and police associations, reinforced by the 'We Beat Crime Together' tagline. Around a decade ago they appropriated the meerkat (which was well-loved because of BBC nature documentaries, long before Aleksandr made things simples). There's still a meerkat sign (alongside some of those older window stickers) on the row of houses next to the Cog studio in Greenwich.

Since 2007, Neighbourhood Watch has been sort of centralised, there is a single body (funded by the Home Office) that coordinates the activities of Neighbourhood and Home Watch groups. However the whole set-up is still charmingly parochial, with semi-automous, partially regulated local groups doing their own thing at their own scale, using devolved powers in their own way, or not, as the mood takes them. It seems that our Neighbourhood Watchers are as close to a model of anarchist principles as my teenage self could have hoped for.
And what of the people from the sign? It seems like we will never know about the lives they lived. If you have any clues to their identities, do let me know. I'd love to find out if that little girl grew up to feel safe and protected.
---
Addendum: December '19
I was with a friend, wandering through Faversham in Kent last weekend. And, on a lamppost near his house, I found this…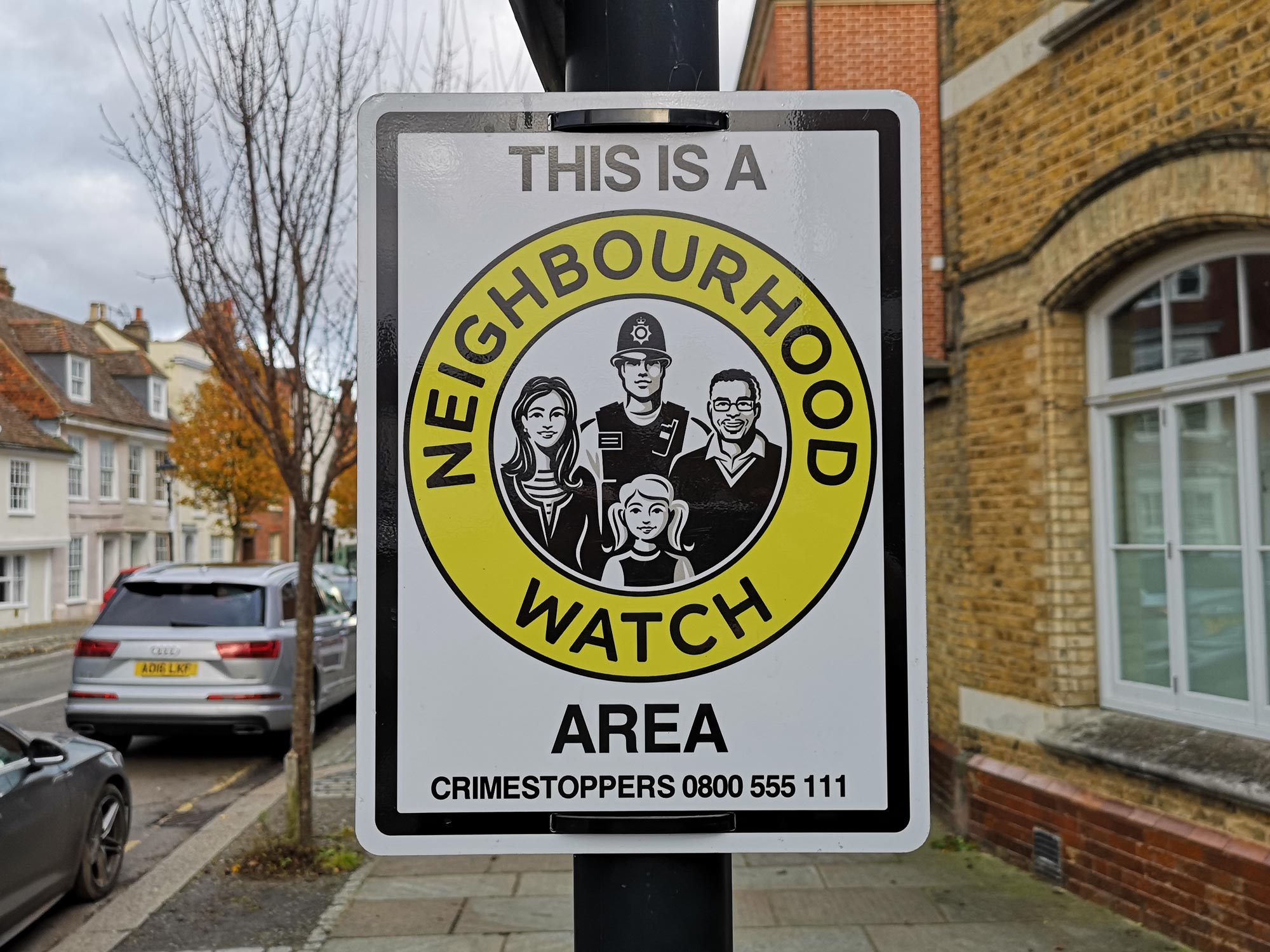 Mellor&Smith have updated the illustration and relaunched the scheme. It looks great.