I've been to a few of the Because talks at Wolff Olins. I don't know, or at least can't remember, how I ended up on the invite list but I'm delighted that I did. The premise is simple – a 'name' from the industry comes to share their inspiration. Of course, preparing a unique talk is a time-consuming process so most people fall back on a version of the story of their career, the one they tell journalists or student audiences (the speakers are always people with enough experience to have a comprehensive pre-edited back-story).
Tony Brook bucked the trend a little by bringing along some hugely impressive props – framed posters by some of the legends of 20th Century graphic design. Of course they are a key part of Brook's story. His story is one of a collector, an obsessive about those 20th century pioneers, so obsessive that his personal collection became the basis of the Wim Crouwel exhibition that he co-curated the Design Museum in 2011.
People hire you to do what you have done before. It seems so obvious when someone spells it out so clearly.
Brook's story is fascinating. It is extremely well told through the interview he did with John L. Waters in Eye magazine (Eye, no. 86, vol. 22 2013) so I won't attempt to repeat it here. Instead I'll focus on the point of the talk – inspiration.
Having worked for other agencies, designing record sleeves (amongst other things) for a few years, Brook decided to set up on his own, working from his home under the name Spin. He was soon joined by his wife and they gradually built a pretty successful, ever-growing design studio. Nagging at the back of Brook's mind was a statistic he'd been told about the length of time it takes for most new businesses to fail (18 months, 2 years or 3 years depending on which retelling of the story you hear).
After three years the company was still afloat, Brook had succeeded where most had failed. Flushed by success he did something inspirational, something that most business owners would be terrified to do; he decided it was time for radical change.
He took two big steps: he sacked two-thirds of his clients and he decided to invest Spin's money (the money they would previously have spent entering competitions) on self-promotional items.
Walking away from clients is a bold move. It takes a lot of time, effort and emotional investment to secure new clients. Once you've got a client it's much easier to keep them than to replace them so the temptation is to hang on, long after the relationship has stopped being productive (or enjoyable) for either of you. Sacking so many clients meant that Spin needed a much smaller team than they had become; it was clear as Brook spoke that he felt bad that he'd made good people redundant.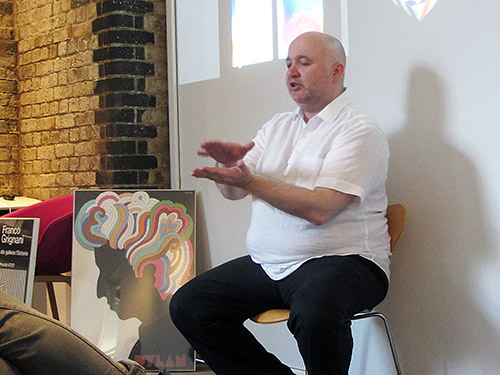 His decision to invest in self-promotion was the one that interested me most because of the principle that lay behind it – people hire you to do what you have done before. It seems so obvious when someone spells it out so clearly. Brook wanted to work in a particular field (moving graphics), nobody was asking Spin to do that work so he commissioned himself to do some. He sent the results to people, including Creative Review who put it on one of their giveaway CD-ROMs (I must look on the shelves to see if we've still got a copy) and people responded. Spin started being asked to produce that sort of work for companies like Nike and Channel 4 and Brook transformed Spin into one of the world's most respected agencies.
Of course the story isn't that neat. There were bumps, big bumps along the way (including commissioning a film about table football that nearly bankrupted them) but Brook's tenacity and sheer hard work saw him through those problems.
Brook has expanded his horizons further using his obsessive love of graphic design along the way. In partnership with Adrian Shaughnessy, Brook is now just as well known for the Unit Editions project – publishing short-run graphic design books that 'need to be made', for the very geekiest of design geeks. And he was the powerhouse behind the AGI Open conference in London in 2013 (that I got so grumpy about).
I don't share Brook's total fascination and immersion in the history and practice of graphic design although I have nothing but respect for his obsession.
His hour at Wolff Olins may have been a heavily redacted version of his story but I found it hugely inspirational and it has set me thinking about the changes I should be making to my own studio. I just wish I was as brave as him and had half his enthusiasm, energy or talent.