***
Update 8 July 2016: Head of Digital Sam Scott Wood will be heading to #amaconf 2016 in Edinburgh. Find her or tweet her (@samscottwood) if you want to talk design or digital, or just fancy a chat.
I spent three days in Birmingham at the Arts Marketing Association conference last week. I've been attending for more years than I care to remember now and it's an event that never disappoints. This year's conference was the biggest yet with over 650 arts marketers and fundraisers taking over Birmingham Rep (who were fantastic hosts).
As ever, the programme covered a huge amount. Some of my highlights were:
At any event, I'm always waiting for the one session that connects emotionally, that makes the hairs on the back of your neck stand up and makes you proud that you work in the arts sector. This year for me, it was a session about diversity. Four great speakers (Kerry Michael from Theatre Royal Stratford East, Carol Akiwumi from RAA Solutions, Jo Verrent from Unlimited and Deborah Aydon from Liverpool Everyman & Playhouse) talked passionately about embedding inclusivity and access into our organisations and work. It had people instantly thinking about practical actions they could take in their own organisations, which to me is one of the huge rewards of the AMA Conference.
That's why I've always come back from AMA Conference with a long to-do list.
This year we thought we'd take that one step further; as well as our own list we've taken all the tweets we've read, conversations we've had and speakers we've heard and created one big, crowd-sourced to-do list.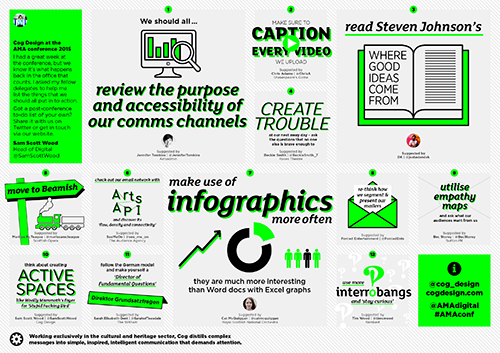 Feel free to download the PDF and let us know in the comments or via Twitter if you've got anything to add!